Overview:
A New Benchmark for Webcams
Logitech delivers our best ever webcam with 4K UHD and 5X zoom for truly amazing video quality. BRIO's 4K image sensor is a next-generation powerhouse that enables 5X digital zoom, high frame rates and multiple resolutions to optimally support any compute/network environment. Logitech's RightLight 3 with HDR helps you look your best in any illumination, from low light to direct sunlight. Advanced Logitech optics deliver razor-sharp video resolution with autofocus and multiple FOV options – 65°, 78°, and 90°.
BRIO is also packed with extras, including support for infrared-based facial recognition to strengthen login security, works with Microsoft Cortana, supports multiple connection types (including USB 2.0 Type A and USB 3.0 Type A and C), and provides the freedom to mount the camera wherever it works best – LCD screen, notebook, or tabletop – with the removable clip or embedded tripod thread.
---

Capture Every Detail in 4K HD
Stream crystal-clear video with superb resolution, frame rate, color, and detail. Logitech BRIO delivers 4K Ultra HD at 30 fps or 1080p at either 30 or an ultra-smooth 60 fps for outstanding clarity, smoothness, and detail. Get a closer look with 5x zoom.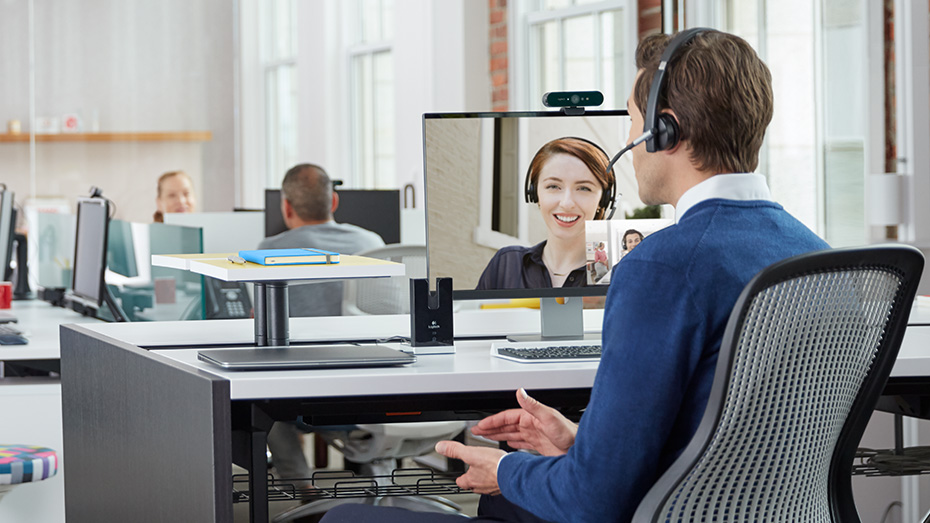 ---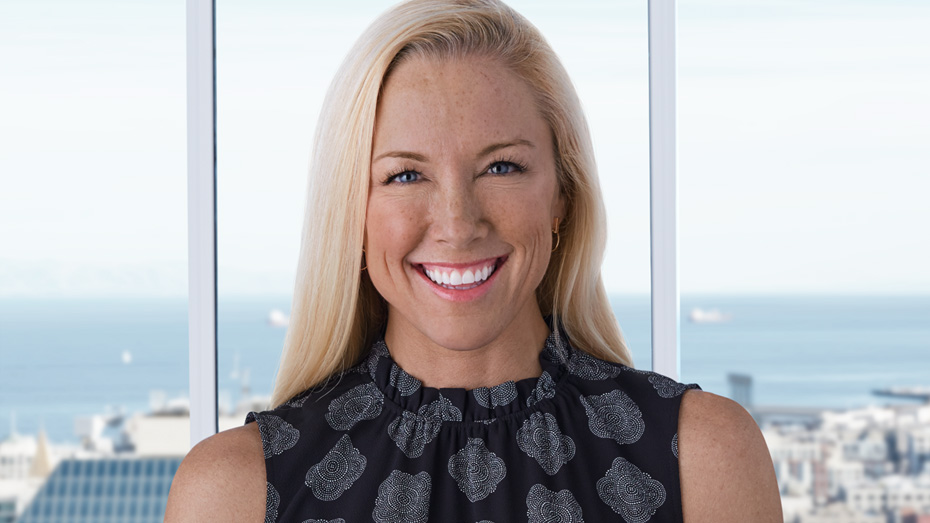 Look Great in any Light
Now you can use your video conferencing, streaming, and video recording applications in any lighting condition – and always look your best. Whether in low light or bright sunshine, Logitech BRIO with RightLight™ 3 and high dynamic range (HDR) technology adjusts to highlight the most important subject: you.
---

Security Meets Convenience
Powered by both optical and infrared sensors, BRIO delivers fast and secure facial recognition for Windows Hello. No need to type a password for Windows 10: simply look into BRIO's lens to login.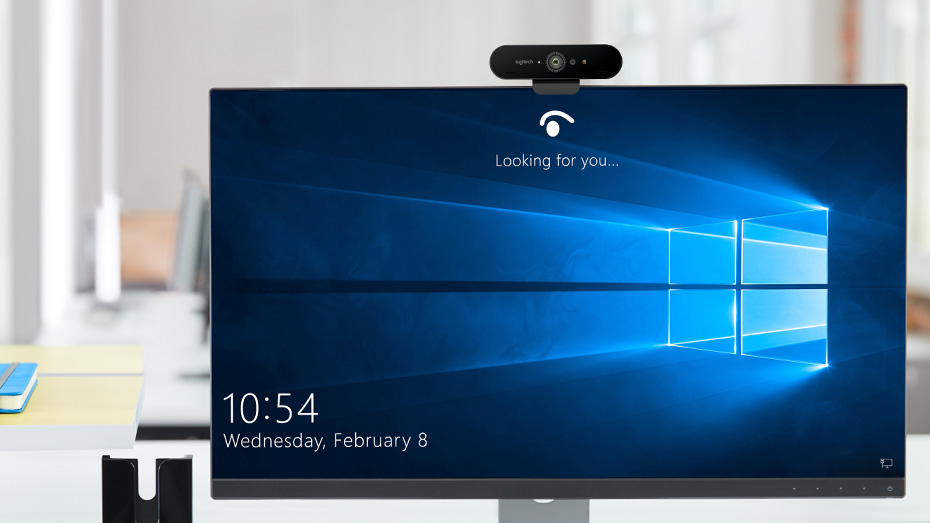 Features:
Ultra HD 4K image sensor
Supports multiple resolutions, including 4K (Ultra HD) @ 30 fps, 1080p (Full HD) @ 30 or 60 fps and 720p (HD) @ 30, 60, or 90 fps to best support the quality offered by your application and monitor.
RightLight 3 with HDR
Look your best in any lighting environment, from low light to direct sunlight or high contrast.
Ultra-secure login with infrared sensor
Infrared technology supports facial recognition for advanced security with Windows Hello™ or other facial recognition software.
5X digital zoom
Need a closer view of fine details? Zoom in and move around your scene with precision using Logitech or in-app controls.
Expansive field of view
Adjust your field of view from 90° to show more of your setting or include more people—or narrow the scope to 65° or 78° for more focused communication.
Razor-sharp optics with autofocus
Enhance face-to-face collaboration. BRIO is the next best thing to physically being there. Advanced Logitech autofocus lens technology delivers remarkable video quality with superb resolution, speed, fluidity, color balance, and detail.
Certified for Business
Business-grade certifications2 mean you can launch your next presentation or video meeting with complete confidence.
Omni-directional microphones
Two omni-directional microphones with noise cancellation provide business-class audio performance. Mics even work with Microsoft® Cortana®.
Multiple mounting options
Freedom to mount the camera wherever it works best – LCD screen, notebook, or tabletop – by using the removable clip or embedded tripod thread. Clip is adjustable to fit a variety of screens.
Plug-and-play USB connectivity
Easily connects to PC, Mac® and Chrome™ devices with no additional software required.
Privacy shade
Switch to privacy mode in an instant with the privacy shade.
Multiple connection types
Enjoy the flexibility of USB 2.0 Type A and USB 3.0 Type A and C connections.
Custom carrying case
Take your show on the road. The custom carrying case features separate compartments for the camera and detachable clip/cable to conveniently transport BRIO wherever your travels take you.
Specifications:
Dimensions
Camera:
Height x Width x Depth: 1 in (27 mm) x 4 in (102 mm) x 1 in (27 mm)
Weight: 2.2 oz (63 g)

Clip:
Height x Width x Depth: 2.5 in (63 mm) x 1.4 in (36 mm) x .73 in (19 mm)
Weight: 2.5 oz (70 g)
Cable Length:
7.2 ft (2.2 m)
Weight: 2.2 oz (63 g)
System Requirements
System Requirements:
Windows 7 or higher (Windows 8.1 or higher required for resolutions greater than 1080p)
macOS 10.10 or higher
Chrome OS™ Version 29.0.1547.70 and higher
2 GB RAM or more
Hard drive space for recorded videos
One USB 2 or USB 3 port (4K recording and streaming requires a USB 3.0 port and compatible software)
Compatibility:
Plug and play USB connectivity
Certified for Skype for Business and ready for Teams
Certified for Zoom® Meetings
Fuze Certified
Microsoft Cortana
Windows Hello
Cisco Jabber
Background Replacement:
Windows: Compatible with ChromaCam for Windows
4K Streaming and Recording:
Windows: Works with Camera for Windows 10, XSplit, OBS
Mac: Works with SwiftCapture
Technical Specifications

4K Ultra HD video calling (up to 4096 x 2160 pixels @ 30 fps)
1080p Full HD video calling (up to 1920 x 1080 pixels @ 30 or 60 fps)
720p HD video calling (up to 1280 x 720 pixels @ 30, 60, or 90 fps)
Plug-and-play USB connectivity
Field of View:

Diagonal: 90°
Horizontal: 82.1°
Vertical: 52.2°

5x digital zoom in Full HD
Autofocus
Rightlight™ 3 with HDR for clear image in various lighting environments ranging from low light to direct sunlight.
Image controls with optional Camera Settings application for control of pan, tilt, and zoom
Built-in dual omni-directional mics with noise cancellation
Infrared sensor technology for Windows (SDK available for application integration)
External privacy shutter
Multiple mounting options, including clip and tripod mount
Supports multiple connection types, including USB 2.0 Type A and USB 3.0 Type A and C connections
Custom carrying case

Package Contents
Brio Ultra HD Pro Webcam
USB 3.0 cable (compatible with USB 2.0)
Removable clip
Privacy shade
Carrying pouch
Documentation
Warranty Information
3-Year Limited Hardware Warranty
Part Number
PN:
960-001105